Focused Interviewing Version 3.0
By
Chip
on Wednesday, May 5th, 2010 |
Comments Off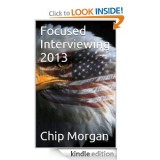 Announcing

New

Focused Interviewing Version 3.0
The Art of Interviewing & Interrogation
How to easily interview people in a friendly, professional manner by becoming a better listener. How to get confessions from people "magically" without them even knowing what you're doing! "If you're sick and tired of the same old approach to interviewing and interrogation and are not afraid to try new, scientifically proven, effective techniques… then you're about to discover an innovative interview method which is wildly successful."
New Release – Version 3.0
Are you interested in the topic of interviewing and interrogation? 
If so, you need the information revealed in this innovative approach to low-confrontational interviewing and interrogation; called Focused Interviewing Version 3.0.
Every professional in the field of law enforcement, corrections, military law enforcement and investigations, drug enforcement, theft prevention, corporate security, personal protection and national security needs to know how to interview witnesses, suspects, victims and others.
Here are some grim facts:
The predominant interviewing and interrogation methodology utilized today is categorized as accusatory or confrontational.
The accusatory, confrontational approach is the

least

productive in terms of results.

It is also the easiest to attack in court and viewed the least favorably among jurors.

Why does law enforcement continue to teach methods that don't work well?

FACT

: Almost every criminal you will ever interview or interrogate is a recidivist….that is, that person will commit crimes multiple times and will most likely be

interviewed or interrogated

over and over again.

FACT

: Trickery, coercion, "in your face" tactics, high-pressure techniques and other forms of confrontational interviewing and interrogation may only work the

FIRST

time someone is interviewed.

FACT

:

Non-confrontational interviewing will work over and over again!
The most effective technique is narrative style interviewing, which is made easy using the Focused Interviewing System.
But experienced police officers and investigators already know how to interview people, right?
Maybe not… consider:
The overall success rate of officers gaining admissions and/or confessions is less than 40%

Most Law Enforcement Academies average 4 hours of interviewing and interrogation techniques in Basic Instruction.

More than 60% of all Police Academies do not teach interviewing and interrogation techniques at all.

Less than 20% of officers nationwide receive any in-service interviewing and interrogation instruction.

When asked to identify lies by watching body language, officers fare no better than chance.

Yet, Police Officers put blind faith in their ability to identify deception using body language.

At least 50% of the interviewing and interrogation techniques being taught to law enforcement officers are inaccurate and non-productive.

"I have gone to about every interrogation school around. They all kind of seemed like the same old thing.

I've been a cop, an investigator, a Fish & Wildlife agent and a Probation Officer, so I've been around awhile.

The Focused Interviewing System is the one method that I've found that actually works in the real world.

Not only does it get results, but people aren't pissed off at the end of the interview."

"Great stuff!"

Joe Vicente

California
This skill is so important in law enforcement that it should be emphasized over all other areas of training. Sadly, most training academies and law enforcement agencies can't afford to have high-priced interviewing training programs, so they skimp in this critical area. They are making a big mistake.
Do you feel like you could use more interviewing and interrogation training? If so, read on…
Look how the world has changed in recent years. For example, members of our military are now taking part in interviewing suspects all over the world as a part of our war against terrorism. Now, more than ever, we all need the skills at hand to effectively interview people in the field.
"After reviewing your system, I find it exciting that Focused Interviewing is being taught to Patrol Officers.

Too many times, this type of program is only taught to detectives and investigators. I wish other state POST Academies would adopt this system.

It is easy to use and does not require a lot of memorization."

Levi Bolton,

Phoenix Police Department, AZ

 
My name is Chip Morgan and I interview people for a living, all over the world. After 35 years of conducting criminal and employment interviews, I've learned a thing or two about this fascinating thing called interviewing.
Believe me, in my early years, I made nearly every mistake imaginable during the interview process. Yet, I "hung in there" and kept refining my techniques until one day I finally figured out the key.
You have the opportunity to use my latest interviewing techniques without having to learn it all by trial-and-error. You deserve to know how to easily conduct interviews, without making my early mistakes. I'm talking about productive, satisfying interviews which end up with you getting admissions and confessions by the ton!
I recently worked in Iraq for a year and a significant part of my job was interviewing Iraqi nationals.
I was gratified to find that the principles I advocate in The Focused Interviewing System worked well across cultures, even when using interpreters!
"I began in law enforcement in 1984. This is one of the most effective interview techniques I have ever seen.

I have used Focused Interviewing for years and have been very successful using this system.

Detective Chip Morgan's style of instruction and his ability to make the material fun and informative makes this a "must have."

You will see your confession rate increase by using this system of interviewing.

I think so much of this style of interviewing I became an instructor."

Detective Curtis Gambrel

retired from Twin Falls Police
We'll get back to that, but first, let me ask you something: Have you ever been unsure or hesitant when you started an interview? Don't feel bad, in a particular situation, any of us may be somewhat hesitant to confront a suspect in an interview. First, let's look at some reasons why you might be hesitant to interview a suspect in the "real world":
Maybe you have bad case facts.

Maybe you have a partial suspect identification only.

Maybe you have "weak" witnesses or victims to a crime.

Maybe you aren't sure there even

has been

a crime.

Maybe you've never had much success as an interviewer.

Whatever the reason, sometimes you may not be 100% confident when you are starting an interview.
That's not your fault.
Part of the problem is the interviewing and interrogation method we were taught when we started in this business: it's known as confrontational interviewing. "Confrontational interviewing" where we aggressively challenge a suspect (example: "John, I know you did the burglary") is not possible in all situations.
The good news is: you don't have to directly challenge anyone in an interview. You will soon know how to walk into an interview (even when you are unsure of the case facts) with total confidence, elicit all the information someone has about the crime and secure admissions and confessions in a professional manner. What's more, it's easy, logical and requires no memorization of "steps."
"As a female law enforcement officer, I used to struggle with the thought of interviewing someone.

I ordered Focused Interviewing and immediately started using the techniques.

Very easy to use and it just makes sense. 

You don't have to 'learn' anything, you just have to pay attention to what you already know.

I encourage every woman in law enforcement (and men, too) to get this info right now.

It's made me completely confidant to interview anyone!"

J.Olson

Special Agent
The best approach to interviewing is completely different than what you may have seen before. Forget about "confrontational" style interviewing. Non-confrontational interviewing is more productive, is easier to learn and is more acceptable to the courts and the public than confrontational style interviewing. You see, most people want to tell the truth, at least on a subconscious level. All you have to do is figure out how to get them to tell you.
"This needs to be taught to all our officers, especially the Probation & Parole Officers."

David Nelsen

Deputy Administrator

Idaho Department of Correction. 
 To become better interviewers, we must first become better listeners. What we have to do (as interviewers) is to find hidden "keys" in people's personalities which will allow us to "unlock the truth."
You'll soon learn how to talk with anyone, put them at ease, get to know what makes them "tick" and use that information to discover the truth. In order to gain the truth, the people being interviewed must feel as though the interviewer understands them and cares about them.
Once that happens, their trust level escalates until they can't wait to confess. Remember, to be an effective interviewer doesn't just mean obtaining more admissions and confessions (although you'll certainly do that) but also means becoming a better listener for victims and witnesses, too!
Practitioners of the Focused Interviewing System enthusiastically say that they are getting more detailed witness statements and more complete victim statements by using this technique. By employing the Focused Interviewing 2013 System, it is not uncommon for people being interviewed to feel as though you are the only one who understands them; the only one in the criminal justice system that cares about them and the only one to whom they can relate.
It is very common using this system to receive Postcards, "Thank You" letters and phone calls from the very people you have interviewed, even though some of them end up in prison as a result of their admissions!
Using the Focused Interviewing 2013 System, here's what you'll be able to do:
avoid confrontations

easily obtain admissions and confessions

instantly diffuse anger and hostility

obtain better witness statements

get more detailed victim statements

understand the dynamics of the interviewing and interrogation process

interact with people (including very mad people) without getting complaints

learn how to really listen to what someone's saying
You will soon know how to become a better interviewer, getting confessions, admissions and better witness statements almost immediately. Your co-workers, judges, prosecutors, defense attorneys, bosses and subordinates will soon be amazed at your interviewing ability! Absolutely no other method currently offered deals with the subject of interviewing from this angle. The Focused Interviewing 2013 System is easy to learn, easy to use and works very, very well. That's right… you can easily interview anyone and get more confessions. In addition, you'll learn the best techniques for interviewing witnesses and victims, too!
I'm not talking about a steep learning curve here. If you download this course material, you can start using this system today! But I Don't Want You to Buy This Book for some outrageous amount of money
Read on ……
The Focused Interviewing 2013 method is a very simple, step-by-step process that makes total common sense. Once you start interviewing this way, you'll wonder why you didn't do this all along! The real beauty of The Focused Interviewing 2013 System lies in it's flexibility and adaptability, enabling you to successfully interview people in any situation. There's nothing to memorize, no mandatory progression in the technique from one level to another. You've seen some interview courses where the students get laminated cards (cheat sheets) to carry with them at the end of the seminar.
Believe me, if you have to consult a cheat sheet during an interview, GAME OVER… you've already lost the contest….

"I've been in Law Enforcement for 30 years and this is the most effective and revolutionary interview system I have seen. It is easy for our students to pick up."

Cal Edwards

Training Specialist,

Idaho State University Law Enforcement Program
Many law enforcement officers and criminal justice students have taken previous versions of The Focused Interviewing System training course at law enforcement training facilities and college campuses throughout the United States.
Normally, this is a one week block of instruction which is somewhat expensive.
When you figure in tuition, the cost of transportation, meals and lodging, it gets expensive to attend traditional interview and interrogation training classes.
To make matters worse, training money is getting harder and harder to come by and most officers are now paying their own money to acquire these valuable skills.
What's that mean to you?
I have totally restructured the whole system to provide you with this exciting information in a Kindle format through Amazon via instant download.
What's even better is this: you can download this information instantly, at a much cheaper price than a standard print text.
In this easy-to-understand e-book, I won't rush you, I won't overwhelm you with too much information at once and I'll make sure it's all offered in easy-to-understand language.
I guarantee if you apply these principles, you will become a much better interviewer!
So, you have a choice to make: either remain frustrated over this whole interviewing deal, or take some action, sign up for our newsletter by filling in your information above and get the Focused Interviewing 2013 system at a very reasonable cost via instant download by Kindle through Amazon.
For those of you who don't know about the Kindle platform, it is NOT necessary to actually own a Kindle device to read this material, you can read it via a FREE Kindle viewer on any computer.
That's right, within minutes, you can be reading and absorbing this priceless interviewing material, even if it's 3 O'clock in the morning!
It's so "chock full" of training aids and guidelines, you'll want to read the material over and over again.
Think about it…. you have minimal financial outlay and a 100% money back guarantee…isn't it worth a small amount of expense to become the interviewer you always wanted to be?
Bottom line: I am a cop, an investigator, an instructor and a polygraph examiner.
My heart and soul lies with the people who work in this (sometimes thankless) profession and I want to provide each of you with this valuable tool to help make your job easier.
My competitors have told me that I'm nuts for giving this info away at such a low price.
They are afraid that if everyone can afford to have top-notch interview training right in their own hands at such low cost, no one will want to attend their high-priced interviewing schools.
I don't care what they think.
My goal is to get this information into as many law enforcement officers' hands as possible.
What have you got to lose?
If you want a very reduced price on this totally new material, download Focused Interviewing 2013 –
for instant delivery.
Recently Updated to Version 3.0!
If it was me, I would get a copy right now.
Copyright 2010, 2011, 2013 , 2014  www.focusedinterview.com